Description
Call 866-217-0063!
CanDo HD Bluetooth Mobile Commercial Heavy Truck Scanner with DPF Regens Bundle
INCLUDES 7" TABLET READY TO GO
Give yourself a great, easily portable bundle for doing quick scans on commercial trucks. This customer bundle from Diesel Laptops provides you with: CanDo HD Mobile, 7" Android tablet, canvas carry case, and a 12-month subscription to the TruckFaultCodes website. With this kit, you can scan any commercial truck or automobile and quickly retrieve codes, clear codes, view live data, perform DPF regens on certain engines, and access detailed repair information on every single heavy truck diagnsotic code.
7" Android Tablet
Your software and tablet will come pre-installed on this 7" Tablet running the Andoid operating system. This tablet has a 1024x600 display, 1.2 GHz quad-core CPU, 512 MB of RAM, and 8 GB of internal storage. It also includes a MicroSD Card slot, accelerometer, Wifi, Bluetooth, and two cameras (Front and rear facing). Tablet has a 12-month warranty coverage, and you can load any other Android based applications you wish.
CanDo HD Mobile
The CanDo HD mobile is at the heart of this bundle. This adapter will connect to automobile, commercial trucks, and CAT off highway equipment. While commercial trucks are the focus of this tool, you can expect this tool to connect to virtually anything and allow you to read & clear codes, view live data from vehicle sensors, view lifetime/trip reports, and much more. This tool also has the added benefit of performing DPF regenerations on Cummins, Detroit, Volvo, and Isuzu engines as well. Item comes with connection cables for OBDII, 6-pin, 9-pin, and CAT 9-pin equipment. We have a full, in-depth review of this tool on our blog page (You will have to Google this, as eBay no longer allows links outside of eBay), which includes screen shots and video.
TruckFaultCodes Subscription
We've bundled up a free year to the TruckFaultCodes website, which is normally a $200/year subscription. This website will give you repair information for virtually every single diagnostic code that exists on commercial trucks. It can be used on any device that has Internet, including the 7" Android tablet in this bundle.
Canvas Carry Bag
Keep your purchase safe and keep it together in this handy carry case. With more then enough room to store the tablet, charger, CanDo HD Mobile, and all the cables, this carry case can easily be placed in a toolbox or shelf in the shop.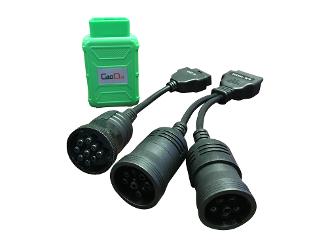 Extra Information
Brand:
CanDo International