Description
Call 866-217-0063 for quick answers and help!
DETROIT DIESEL DDDL NEXIQ TOUGHBOOK DEALER PACKAGE
Detroit Diesel Diagnostic Link Standard Version

When it comes diagnosing and troubleshooting Detroit Diesel engines, this tool gives you the same functionality level as the dealers. This tool has the following capabilities:
Read & clear codes
Step-by-step troubleshooting for all codes
Perform dealer level bi-directional commands such as forced DPF regenerations, SCR tests, cylinder cut-out tests, and more.
Change engine parameters such as maximum cruise speed, maximum road speed, idle shutdown timers, and more.
OEM FULLY LICENSED SOFTWARE
1 YEAR FULLY LICENSED DEALERS LICENSE, Flash, Reprogram, Scan, Read
DETROIT DIESEL LATEST
+
NEXIQ TOUGHBOOK INTERFACE
2 YEAR WARRANTY
NEXIQ DEALER PACKAGE
REPROGRAM AND FULLY DIAGNOSE ALL YOUR CUMMINS MOTORS
STOP SENDING THINGS AWAY TO DEALERS AND KEEP YOUR CUMMINS DIAGNOSTICS IN HOUSE
INCLUDES:
Toughbook
Windows 10 Pro Installed with all Updates. We are an authorized Microsoft Refurbisher, so you receive a genuine product key. Don't be fooled by others on eBay that sell software with out genuine product keys!
DVD/CD Drive
3 GB RAM
Dual Core CPU running at 1.66 GHz each
Integrated Wifi
Integrated Bluetooth
128 GB SSD (Solid State Drive). The solid state drives make this computer "ultra" fast, as it goes from off to working in Windows in less than 45 seconds. Compare that to a "regular" hard drive that takes around 2 minutes. This SSD drive is brand new, and comes with a 3-year warranty! (Through SSD manufacturer)
3 USB Ports
1 Serial Port
2 PCMCIA slots (1 is Express)
SD Card reader
1394 Port
Docking Port
Battery holds a charge for 2+ hours
AC Adapter included
Exact model number of this laptop is: CF-30FQL55AM

+
NEXIQ MPS 124032
USB-Link 2 for PC-to-Vehicle Interface
DESCRIPTION:
PC-to-vehicle interface compatible with multiple software applications, minimizing your investment in multiple brand-specific diagnostic interfaces.
Class 1 Bluetooth provides up to 100 feet of wireless freedom
Flexible configuration supports wired or wireless connectivity
Compatible with applications that diagnose engines, transmissions, ABS, instrument panels and more
Reduce reprogramming times with direct USB connection
Mixed fleet capabilities with broad protocol support
Quick access to vehicle data for maintenance or management reports
Quickly attaches to vehicle's diagnostic connector
No messy cables to untangle or get in the way with Bluetooth
Easy portability increases flexibility
May be used with desktop PC or laptop
FEATURES:
RP1210A, RP1210B, RP1210C and J2534 API support
Bluetooth vehicle-to-PC wireless connectivity
USB vehicle-to-PC connectivity
Protocol coverage for automotive to heavy duty vehicles:

3 CAN - J1939/CAN125/CAN250/CAN500/CAN1000
Automatic bit rate detection for all standard CAN channels
Single Wire CAN
Fault Tolerant CAN
J1587/J1708
J1850
ISO 15765 (Diagnostic CAN)
ISO 14230 (KWP2000 over ISO9141)
J2534
ALDL
ATEC 160 (160 baud)
INCLUDES:

NEXIQ USB-Link 2 Bluetooth Edition (124032)
9-pin Deutsch Adapter - 1 Meter (493128)
J1962 Adapter (16-pin OBD II) - 1 Meter (493113)
15' Latching USB cable (404032)
Quick start reference guide
Carrying case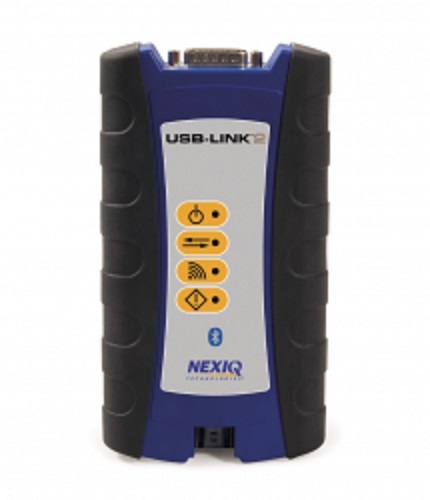 STOP SENDING CUSTOMERS AWAY AND KEEP THE WORK IN HOUSE
PLEASE SEE OUR OTHER OEM DIAGNOSTIC TOOL AUCTIONS
Extra Information
Brand:
NEXIQ Technologies